Real
's title challenge is over. It was more or less over a couple of weeks ago when they drew at
Almeria
, but this sealed the deal.
Mourinho
's men have been grasping and stumbling to stay on their feat in the title race but a 1-0 loss at
Osasuna
, while
Barca
cruised to another effortless win, 3-0 away win at
Hercules
hammered the points home.
Barca
are 7 clear.
So much of prescient sporting prediction is about assuring that the statistical probable truths stay firmly at the forefront of one's thinking: any whiff of hopes and dreams about what may occur must be kept securely under wraps. We must not confuse what is going to happen with what will. Thus, just because a team who's record breaking form is proving that they are one of, if not the, greatest teams in history had a blip against a minnow side at the start of the season, does not mean it is going to happen twice (or that you should cast off their most consistent scorers); nor does it mean that a top 10 side who have emphatically won two home games on the trot will repeat the feat against a side from the bottom half of the table.
Osasuna 1 - 0 Real Madrid... down and out in the autonomous community of Navarre
Javier Camunas - PES likeness
For the whites, once again,
Ronaldo
top scored in stats (11.5pts 2 SOTs and 5 Fws) but didn't score a goal, once again no other player evidenced any kind of attacking threat - of the rest
Di Maria
top scored with 4 pts.
For Osasuna, Ricardo - as in week 18 - was superb in goal, scoring handsomely with 15 pts (4 saves) and was joint top scorer for the reds alongside match winning midfielder
Javier Camuñas
. Defender
S. Fernandez
got a notable 10.5 and has scored 9+ in 3 of the past 6 weeks. Ex Birmingham City striker
Walter Pandiani
reminded us of his qualities with a -1.5.
Hercules 0 - 3 Barca... top banana
Messi
got 2 goals and only his 2nd +20 score in 6 weeks with 33 points. His value is still 43.
Pedro
(who I inexplicably dropped) got another goal and 19.5 pts.
Dani Alves
returned to score 2 assists and 17.5 points. Quite pleasingly,
Villa
(worth 29) scored -0.5. Such a risky pick.
Mallorca 0 - 4 Sporting Gijon... A tale of two Castros
This has to be the shock scoreline from Saturday night's results. Mallorca may have lost their last two games - away to the Madrids - but they had been in good home form and put up a strong fight at the Bernabeau. They had won their last two home games 4-1 and 3-0. But, alas, the warning signs were there: only last week Sporting's "shock" defeat of Atletico was being praised on these pages.
Last night's results saw these two sides consentinaed together: Mallorca plummeting to 11th with Gijon leaping to 12th. Punting for Mallorca's keeper
Dudu Aouate
(-14) was a grievous error; hotly tipped defender
Nunes
folded (-2); striker
Pierre Webo
(brought in for Barca's Pedro) limped to 0.5; at least midfielder Gonzalo
Castro
put up some resistance with 9.
For Sporting, another
Castro
(Diego) was the hero with a brace from midfield and 18pts. Former Rangers striker
Nacho Novo
also got on the scoresheet and notched a worthy 10.
Real Sociedad 2 - 0 Almeria... this is Basque country
Real Madrid and Mallorca took account for 7 of my 11 and cumulatively left me a little queasy. Luckily RSO didn't "do a Mallorca" and Basque boys
Tamudo
and
Xavi Prieto
gave me a little more faith in myself. Tamudo got a goal and a delicious 20.5 pts (from value 6). Xavi got a respectable 8.
Espanyol 0 - 1 Villarreal... gunning for you
This was a huge win for The Yellow Submarine (s?) over the excellent Espanyol and will have Real Madrid looking over their shoulders: 3rd place villarreal are in form and 6 points behind. The match winner once again was
Rossi
(18 points) and
Diego Lopez
in goal found his gloves (now that I dropped him) with 17 pts!
I was happy to have
Sergio Garcia
for the Catalans. Valued 11, the striker got a respectable 9.
Deportivo 3 - 3 Seville
Didier Zokora - gorgeous ball
An exciting match, unusually for the obdurate Deportivo.
Julien Escude
scored again for Seville and striker
Alvaro Negrego
got a brace and 20.5 points, his second scored
"
via a gorgeous ball from Didier Zokora"
. Inexplicably, I held on to Martin Caceres from last week and he got 3 pts.
Lassad Nouioui
did the business for Depor with two himself and 20 pts. A quick look at Deportivo's team stats tells me that, yes, the legendary
Juan Valeron
does still play for them, but is sadly worth just 3.5, his highest score of the season being 2.5.
Other results:
Atlético Madrid 0 - 2 Athletic Bilbao
Lots of big points for Bilbao as they stretched the gap between themselves in 6th and Madrid in 7th to 5 points. Toquerro 2 goals and 26 points (the striker's first goals of the season). GK
Gorka Iraizoz
24 points. Defender Iraola a majestic 17.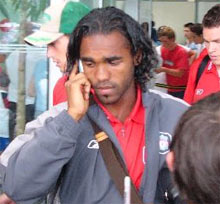 Pongolle - On call
Levante UD 2 - 0 Getafe CF
A goal and assist for Caicedo
Del Horno 13 pts
Málaga CF 1 - 2 Real Zaragoza
Duda got 21 points yet oddly his price plummeted from 21 to 16.
Sinama Pongolle was amongst the goals for Zaragoza.
Still to play:
Racing Santander v Valencia